Massachusetts Computer Using Educators, Inc.
Historical Information
1987
Officers/Board:
President
: Len Huber - Alan November elected in March, Len reappointed to the board as "Past President"
Vice President
: Lucille Harper
Secretary
: Algot Runeman
Treasurer
: Jim Modena
Communications/Publications Coordinator
: Martin Huntley (10/87) - Earle Hancock (12/87)
Conference/Events Coordinator
: Gail Ross-
McBride
(10/87)
Minutes web files:
July 10
-
August 31
-
October 4
-
October 23
-
General Business Meeting 10/24
Minutes .txt:
July 10
--
August 31
--
October 4
--
October 23
--
General Business Meeting (10/24)
Minutes .pdf: July 10 -- August 31 -- October 4 -- October 23 -- General Business Meeting (10/24)
Minutes .odt:
July 10
--
August 31
--
October 4
--
October 23
--
General Business Meeting (10/24)
Conference(s):
Spring March 28, 1987 - Nipmuc Regional HS in Mendon (Cindy Donatelli)
Hospitality (presenter support): Linda Colvin
Vendor Chair: Gail Ross-McBride (There was a cryptic note in the business meeting notes about having "computer companies paying for participation in conferences"
In addition to board members, the following people signed the general business meeting sheet:
Gerry Abrams
Priscilla Arbuckle
Barbara Dunn
Ursula Fecheck
Iris Geik
Earle Hancock
Martin Huntley
Pauline Lamarche
Francis M. Lamoreaux
Beth Lowd
Mary Pavento
Judith Prince
Charles G. Schiller
Tom Vaughn
Russell Waite
Alma Wright
Fall October 24, 1987- Foxboro (Coordinator/Host: Chuck Drayton) - (Keynote: Doris Ray)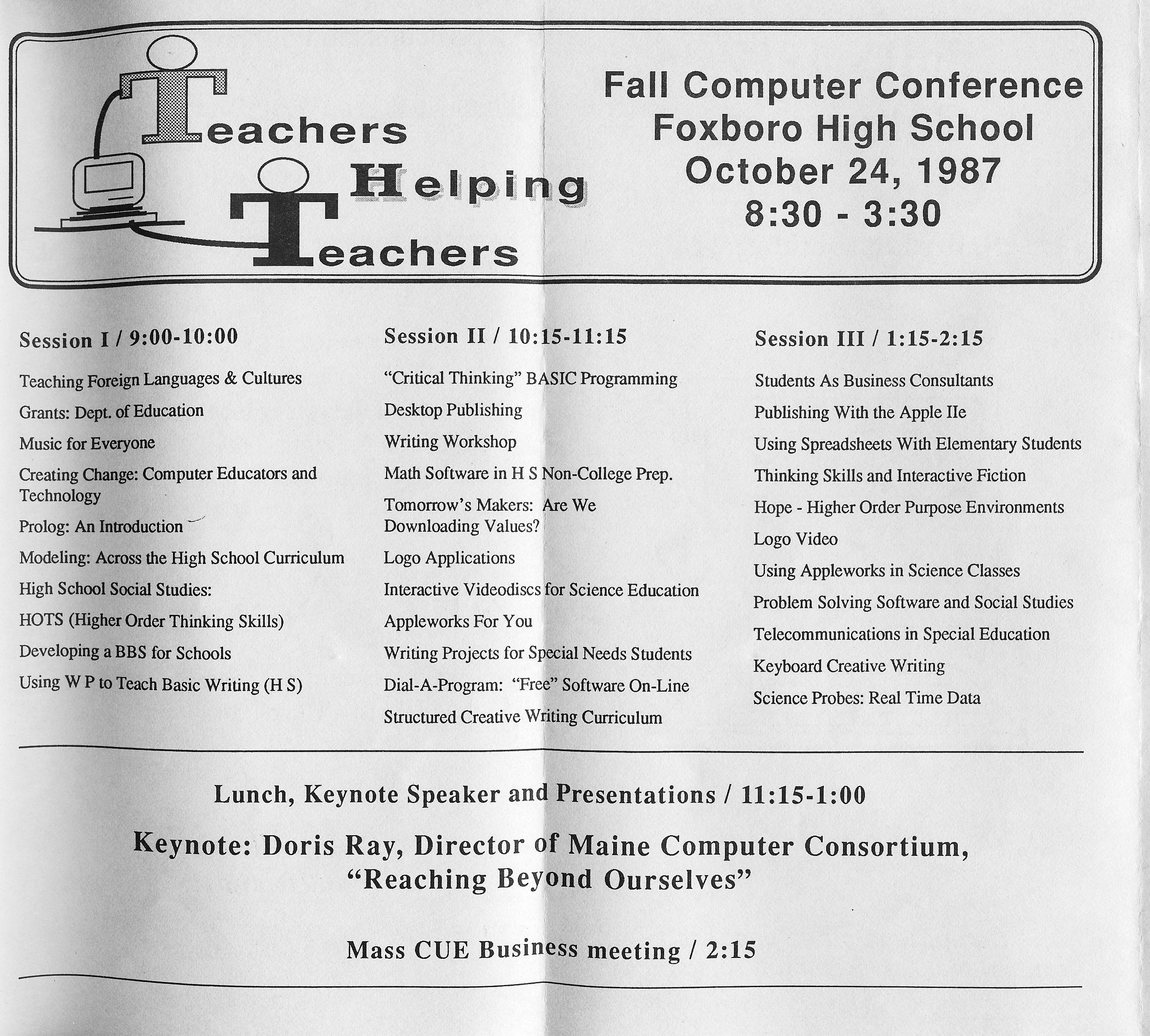 At the general business meeting, by a vote to change the by-laws, the official name of the organization became: Massachusetts Computer Using Educators, Inc. which allows us to be recognized by both Massachusetts and the federal government as a non-profit organization.
Special Events:
Computer presentation "Kids and Computers" to legislators at the Statehouse, April 28, 1987 "to share what we are doing in computing to influence the recognition of computer value in education" (Coordinator: Doreen Bailey, presentations coordinated by Gail Ross-McBride, Coordinating selection of participants: Earle Hancock, Martin Huntley, Elizabeth McCallum)
MASS-CUE Planning Retreat: May 28, 1987 at the Sturbridge Sheraton (Tom Plati)
SIGs:
Proposed: Western Massachusetts SIG (Paul Lamoreaux volunteered to organize)
At the March 28th business meeting, it was made official that SIG meetings were open to all, not just MASS-CUE members.
Computer Coordinators' SIG (Chairs: Martin Huntley, Linda Colvin, John Marion) Southeastern SIG (Herb Tracey) recognized by board at October 23rd meeting.
General Comments:
John Marion was chair of the Political Action Committee
At the May 8, 1987 board meeting, membership drive goals were set to:
"Get superintendents into the group"
"Get minority participation going"
"Move ahead on institutional membership policies"
"Establish Corporate Membership structure"
"Establish new membership dues at $15.00"
Other:
Beth Lowd - Governor's Educational Technology Advisory Committee (ETAC)
At the May 29, 1987 board meeting, a monthly "MASS-CUE Computer/Technology Calendar" was approved. First calendar: June 1987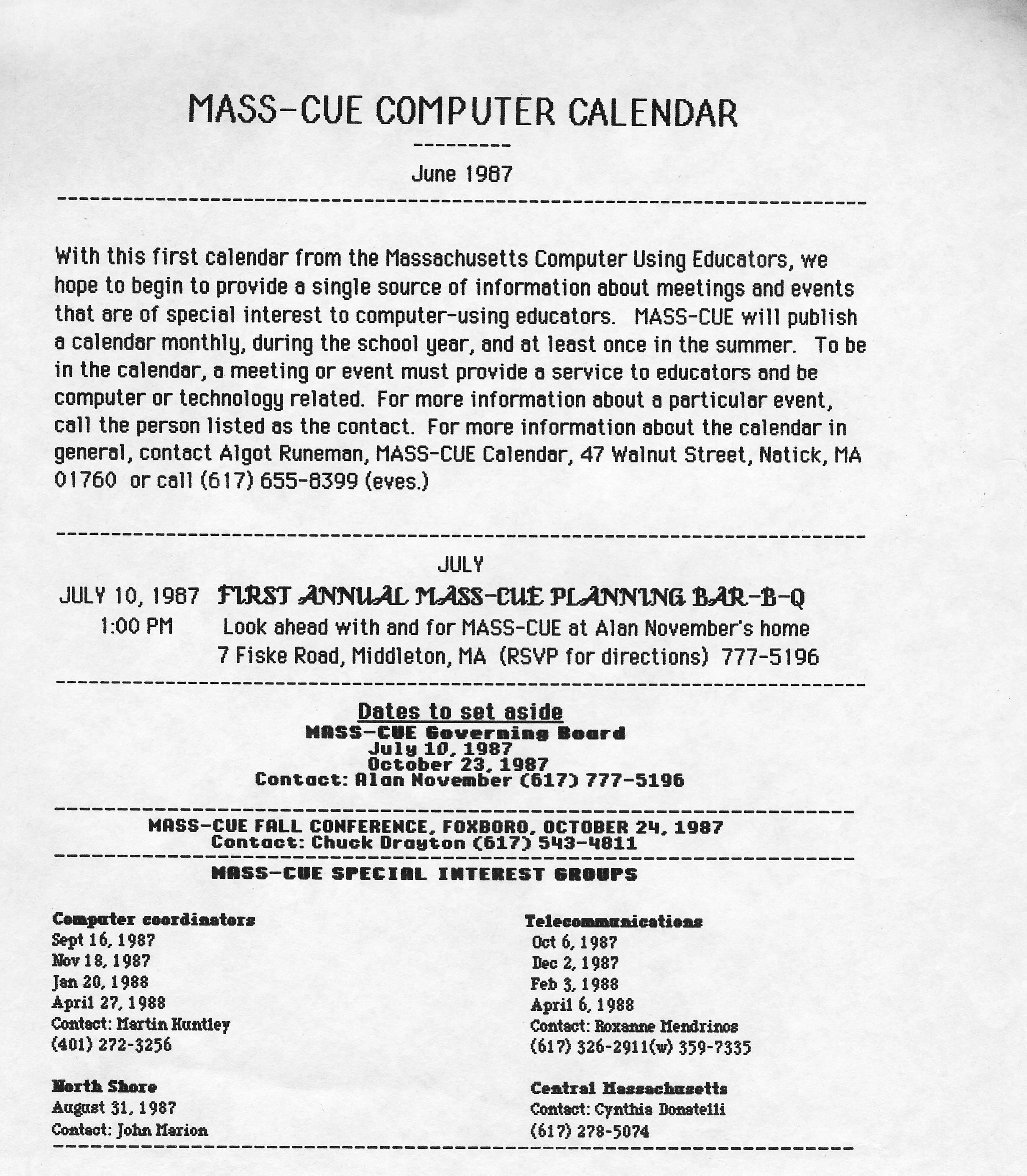 [There is a copy of the Sept 1987 calendar in my files.-AR]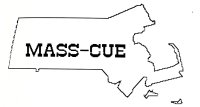 MassCUE
Logo as of June 1987 (note that the way the organization name was abbreviated reflected the upper case printing of the day)
MASS-CUE was invited by Lesley College, the hosting organization, to be the "social chair group" for the 1989 National Educational Computing Conference (NECC).
MASS-CUE and the Boston Computer Society Education SIG are jointly organizing a bus to go to the 1987 NECC meeting in Philadelphia in June.
At the July board meeting it was noted that "for tax purposes" the formal beginning of MASS-CUE [as a corporate entity] was February 13, 1987. [ Copies of the incorporation paperwork ]
In May of 1987, the board voted to pay for contract-based secretarial service for MASS-CUE related work if approved by the president and one other board member.
(First mention of Lelia Richardson, by name, in the meeting notes of August 31, 1987.)
Also in May of 1987, the board voted to expand the board "based on geographic representation and the need for increased board level work-responsibility". to 7 positions
Martin Huntley - Cape and Southeast Massachusetts (also recognizes chairmanship of Coordinators" SIG)
Gail Ross-

McBride

- Corporate Outreach Coordinator
At the final board meeting of the year, December 10, 1987 the proposal was finalized to change our short name from MASS-CUE to MassCUE and that it be consistently used on all published materials.
Popular School Computers:
Apple, Tandy
Cutting Edge Technology:
IBM introduced PS/2 Model 50: 10-

MHz

processor, $3,595 (in 1987)
* IBM OS/2 introduced
* Macintosh II
Macintosh SE
Claris (spun off from Apple as separate software company)
Special note of thanks to Orchard Computers (Norah Alexander, Laura Elliott-Smith, John Sousa, Bill Roberts) for their transport of Apple Computers and technical as well as moral support to the "Kids and Computers" Statehouse Day on April 28th.
Unicom Computers (John Mann) subsidized the May 8, 1987 Planning Retreat breakfast for up to 60 people and Apple Computer subsidized a roast beef dinner.
Last file update: