Wicked Wonderful Wordies
In honor of the great work done in
Games Magazine
, an occasional "wordie" will appear on this site. Many will also be placed in other online locations like my
Fediverse/Mastodon Account
. If you enjoy these puzzles, you should also check the "Wuzzles" of
Tom Underwood
.
A "wordie" attempts to represent an idiom or common short phrase, often only a couple of words. Games Magazine is the place I first encountered the "Wacky Wordies" and thought they were a lot of fun. My students in grades 7 and 8 enjoyed helping design new ones. We produced a weekly wordie to challenge the students not in the current computer skills class. Students often stopped to check the wordie posted for the week. At the time, the tool we used was ClarisWorks, but any drawing tool can be put to use making -them.

The wordies here have been made with Inkscape, the excellent Free Software (open source) graphic design program. It is available for many different computer types including Macintosh, Windows and Linux.

If you are interested in making your own wordies, check out these instructions.
If you give up trying to figure out the "secret" phrase, hover your mouse pointer over the wordie image, but don't give up too easily.
(Mobile users will need to tap/click the clue button or click the wordie for the 'answer'.
If you are new to wordies, backtrack to the top of the page for a bit of background. Below here is the current week's wordie and the most recent earlier ones. Enjoy.
Printable PDF pages


You may download and share printable pages (with answer keys) licensed with the Creative Commons Attribution license which encourages sharing the work. Links back to this site will be appreciated if you reuse any of these wordies on your own website or use them in your own printed materials.

July 2021


Newest printable set
(#35 in PDF format)

Dozens of Dozens

Milestone:
More than 144 Wicked Wonderful Wordies have passed through this site!
That's just GROSS.
Too gross at 288 wordies happened a while ago.
Puns break down beyond that.

---

---

Hover or click the button for your clue.
Hover or click the button for your clue.
Hover or click the button for your clue.
Hover or click the button for your clue.
---
That's it for the most recent of these wicked* wonderful wordies. The wordies from before these have been retired from this web page in order to reduce its length, but you can still access them by grabbing the pdf pages listed next. Each pdf has two pages, so if you are planning to solve the challenges yourself, don't peek at the second page. If you want to use the pages as challenges for your students or for your friends, print out the first page and hold back the second page while they work on the puzzles.
My own students enjoyed the challenge of wordies when I was still teaching. (So did the staff at my school!)
* Wicked is a New England regionalism. When somebody says it, they are saying they approve.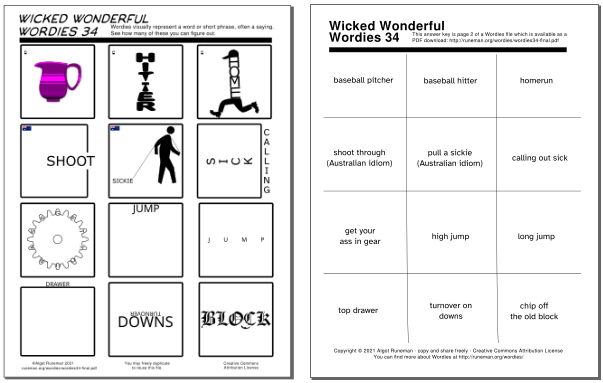 Sets of 12 wordies with answer key
(Click link for browser view of US Letter PDF or right click and choose Save link as...)
If you are interested in making your own wordies, check out these instructions.
---
Galleries:
Sets of wordies are also available in a gallery format. Right now, the galleries seem to work well with a computer browser which provides the option to hover. Unfortunately, the current gallery versions do not work well with tablet and phone browsers which only give the "click" effect when a thumbnail is touched. The click/touch reveals the answer. My apologies to all mobile visitors. I'm exploring alternatives. In the meantime, mobile users can enlarge the thumbnails with a two-finger action to get a better look before tapping reveals the answer. Please contact me if you have suggestions.
---
JavaScript license information
Copyright © Algot Runeman, 2012-
Content licensed
Use the wordies as you see fit.
I'd appreciate a link back if you post on your own site, but that's your choice.
Sharing is good. User freedoms of Free Software are the best.
Thanks to the
Creative Commons
and
Free Software Foundation
.