Massachusetts Computer Using Educators, Inc. Historical Information
1988
Officers/Board:
President: Alan November
Past President: Len Huber
Vice President: Lucille Harper
Secretary: Algot Runeman
Treasurer: Jim Modena
Communications/Publications Coordinator: Earle Hancock
Conference/Events Coordinator: Gail Ross-McBride, Laura Nash (09/88)
At the October 22, 1988 General Business meeting, the by-laws were modified to elect four officers and four at-large members, alternating elections between the four officers and the four at-large members every two years. Additional board appointments (up to 7) as needed to balance for geography and organizational need.
Minutes
The June board meeting was held at Len Huber's house and his daughter painted us a picture.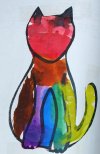 Conference(s):
Spring - March 26 - Haverhill (coordinated by John Marion and Richard Silverman)
(Two day conference discussed for the first time while planning for Haverhill)
(Over three conferences, the vendor table count went from 15, to 25 to 40.)
(Should some workshops be run twice?)
(First suggestion that we hold only a single conference each year was made in June 18 board minutes)
Fall - Milford (Host: Mary Pavento, Conference Program: Peg Bondoreau, Keynote: Harvey Long (The general business meeting entertained the proposal that in 1990, we run only a single conference, two days long, at a site like Worcester or Springfield.)
Special Events:
MassCUE in England - Member who went on trip, Laurene Belisle reported to the board at the July board meeting about the trip. "Kids and Computers" Statehouse Day - May 1, 1989 MassCUE table at Applefest on May 20, 21, 22.
SIGs:
New SIGs proposed: Elementary: Ann Kenyon, Special Needs: Madalaine Pugliese, South Central: (Chuck Drayton), Administration: Ned McGrath, Merrimack Valley: John Marion South Central SIG formally recognized March 25, 1988
South Shore SIG formally recognized May 13, 1988 Merrimack Valley SIG formally recognized October 21, 1988
General Comments:
Early MassCUE Mission Draft (Oct 13, 1988) "Effect technological change in education by being a grassroots organization supporting the professional development of Massachusetts teachers."
Other:
Membership rate set at $20.00 effective July 1.
First discussion of getting a donation from IBM through their New England education office (Alan King)
Popular School Computers:
New Tech: