Forum Control Panel
Some of the screenshot images can be enlarged to full size. Click on the images to see if they reveal themselves. Use the browser "back" button to return to this page. Look for the hand pointer


There are many settings you can modify in your control panel. This page will touch on some of the control panel's features.
Access your control panel

Please gradually get to know the several tabs of user controls. Start with the "Profile" during the meeting.

Click the Profile tab and fill out some of the information like location and interests, If you have any of the other information, feel free to add that, too. None of the information is required. Anyone accessing the member list (must be a registered user and logged in) will be able to see your public profile. Note that your email is NOT listed here.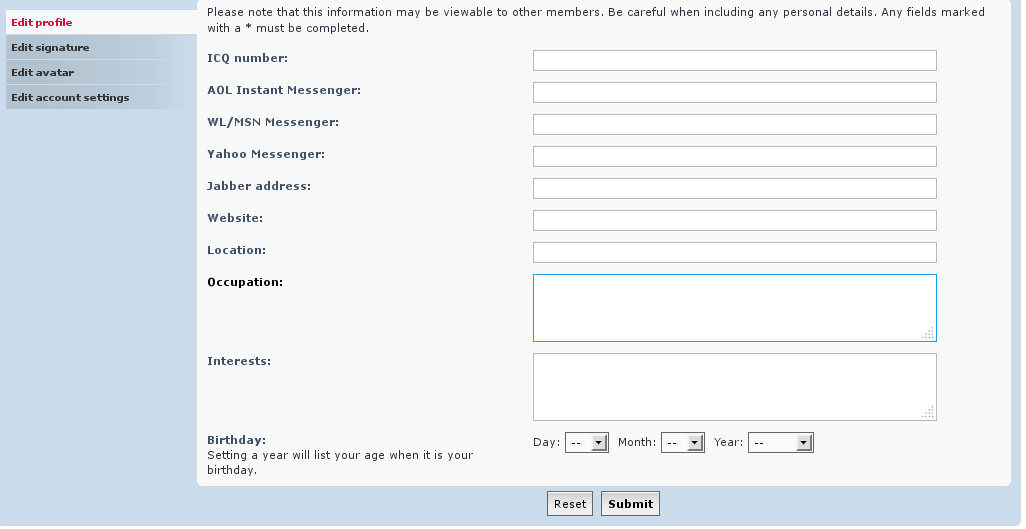 Edit signature is fun. You can add a tag line to all your posts. "Linux Lover!!!" shouldn't be everybody's signature, of course, no matter how true it is.

Edit Avatar is the next tab down the left column. If you don't select an avatar, your "image" will be a small gray rectangle. You'll see in the next image that I have uploaded a square image (90x90 pixels) of my face for the "Alter-Ego" user. If you have one, great. Upload it. If you don't, you can leave the gray box until you do or you can choose from the set of avatars in the Gallery. Click the button "Display Gallery" where you'll see the mix category. There is also a squares category. More may show up if I can find a downloadable set.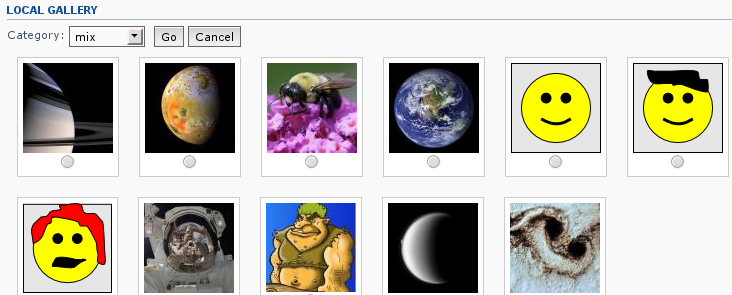 The images you upload are not accessible in the gallery. Any image you upload is yours, not available to other users. If you want to create some 90x90 avatars for the gallery, that would be great, too.
The final options to check are on the Edit account settings tab. Here, you can change emal address and change your password. You probably won't want to make any changes soon after registering for the first time, but it is nice to know you can get at these settings.

Board Preferences tab is where you deal with your privacy issues. Right now the board won't do email (settings not figured out). Later, if you wish other users to NOT be able to email you, change the setting here. New users need to post a few times in order to convert over to "registered user" status. At that point, you will be able do send direct messages through the board to other members.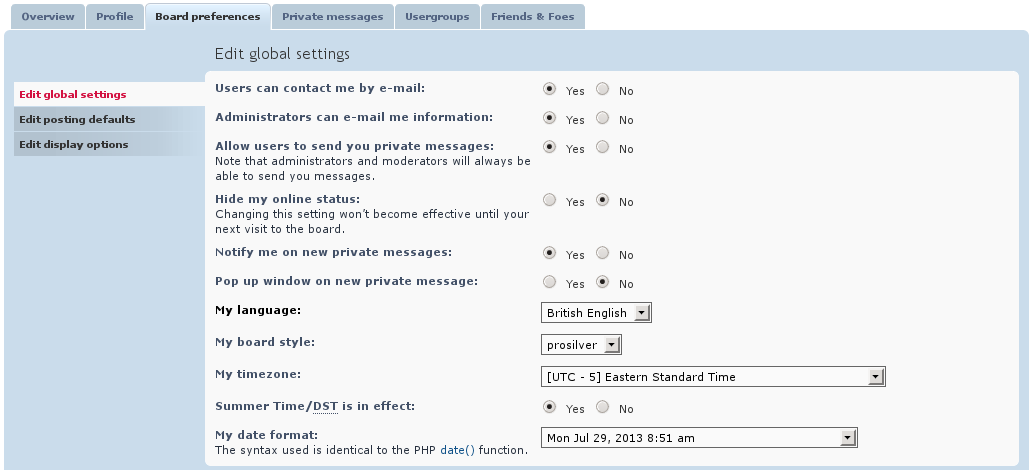 This forum is mostly a generic installation of the phpbb software and I am a novice board admin. Be patient. If you have questions. ask.
Some settings may need to be tweaked for the system to work best for the NatickFOSS group.
--Algot